​Turner English Graduate Internship program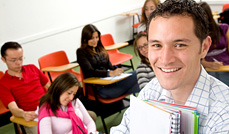 Did you graduate from Turner English?
Have you passed your PTE exam?
Do you now just need to get your foot in the door?
At Turner English, education is the foundation of creativity. Technology, connectivity, dedication and collaboration unlock an incredible opportunity to experiment like never before. Express interns are vital contributors to the school's relentless pursuit of advancing education and human potential.
In Turner English's Express paid internship program, undergraduate and graduate students get a full immersion into the school's culture of creativity, quality and dedication.
Interns interact with school leaders, tackle complex challenges, and build relationships that last a life time. They work on teams such as Technology and Design, Global and Cultural Communications and practically every other area of the school. They gain access to world class teachers and curriculum and enjoy family discounts.
Internship opportunities stretch across Melbourne. Every year, interns help push educational performance; they push their own boundaries in creativity, teamwork and personal growth.
The Turner English Express Internship program has launched the career of 90% of it's interns!!!